111° Edition – 15th August 2013 – 9.30 pm
Piazza Garibaldi – Massa Marittima
Info: www.societaterzierimassetani.it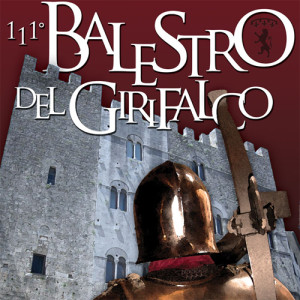 This contest is staged twice a year, on May and on August.
24 crossbowmen partecipate into the contest, 8 archers for each of the Terzieri making up Massa Marittima from the date of its constitution as a Free City. The contest is opened with a somewhat austere and yet lively and colourful pageant, featuring over 150 partecipants, all dressed in faithfully reproduced mediavel clothes. The pageant goes through various streets before ending up in the splendid setting of the "Piazza del Duomo" which dates back to the 12th century.
After the skillful display of the "Sbandieratori" who wave their flags with most elegant fantasy, the contest opens. The arrows are shot with old italian style crossbows, accurate copies of their 15th century ancestors. After having loaded his weapon with the "Girello" or "Martinetto", the marksman takes his place on the bench and aims at the target called "corniolo", which is placed 36 meters away.
The Corniolo is a conical shaped piece of wood, 42cm in height, with a diameter of 13cm and with its smaller end fitted to a black painted disc of 45cm in diameter. The whole assembly is attached in the center of the large "Girifalco".
The winner is the crossbowman whose arrow hits the target nearest to the center. He is rewarded with a symbolic golden arrow and his Terziere will receive the large painted silk banner.