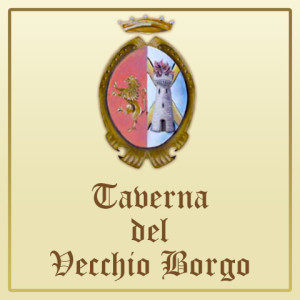 via Norma Parenti, 12
58024 Massa Marittima (GR)
tel. (+39) 0566.903950
cell. (+39) 335.5383666
taverna.vecchioborgo@libero.it
Typical Tuscan cuisine, T-bone steaks and sliced grilled beef typical of Maremma
Closed on sunday evening (open during summer season) and on monday

The Taverna del Vecchio Borgo (Old Village Inn) is located in the historic centre of Massa Marittima, about 100 metres from the Main Square.
In a carefully restored environment, Claudio Bindi and Grazia Innocenti offer a rich repertoire of dishes that are rooted in local tradition.
Starters such as the bruschetta (toasted, sliced bread) with fresh tomatoes and crostini (small, thinly sliced pieces of toasted bread) topped with liver and spleen pâté come from a careful use of resources, the seasons and territory.
The spelt soup and the acquacotta (soup with onions, tomatoes, basil, celery, toast and sheep's milk cheese) are worth trying.
Among the second courses, worth mentioning are the tagliata (sliced grilled beef) with mushrooms or fresh vegetables and wild boar stew with olives.
Our wide cellar offers an excellent variety of Tuscan red wines, besides a wide selection of the Monteregio wine of Massa Marittima.
Menu for trips
€ 25,00

Starters
Mixed Tuscan crostini
Typical Tuscan cured meats
First course
Spelt soup
Potato dumplings made with nettle, taleggio soft cheese and speck (type of Italian smoked ham)
Second Course 
Mixed grill with a side dish
Home-made wine, water, dessert
(Our customers are kindly requested to send their confirmation)
Download the full menu as a pdf
VIRTUAL TOUR